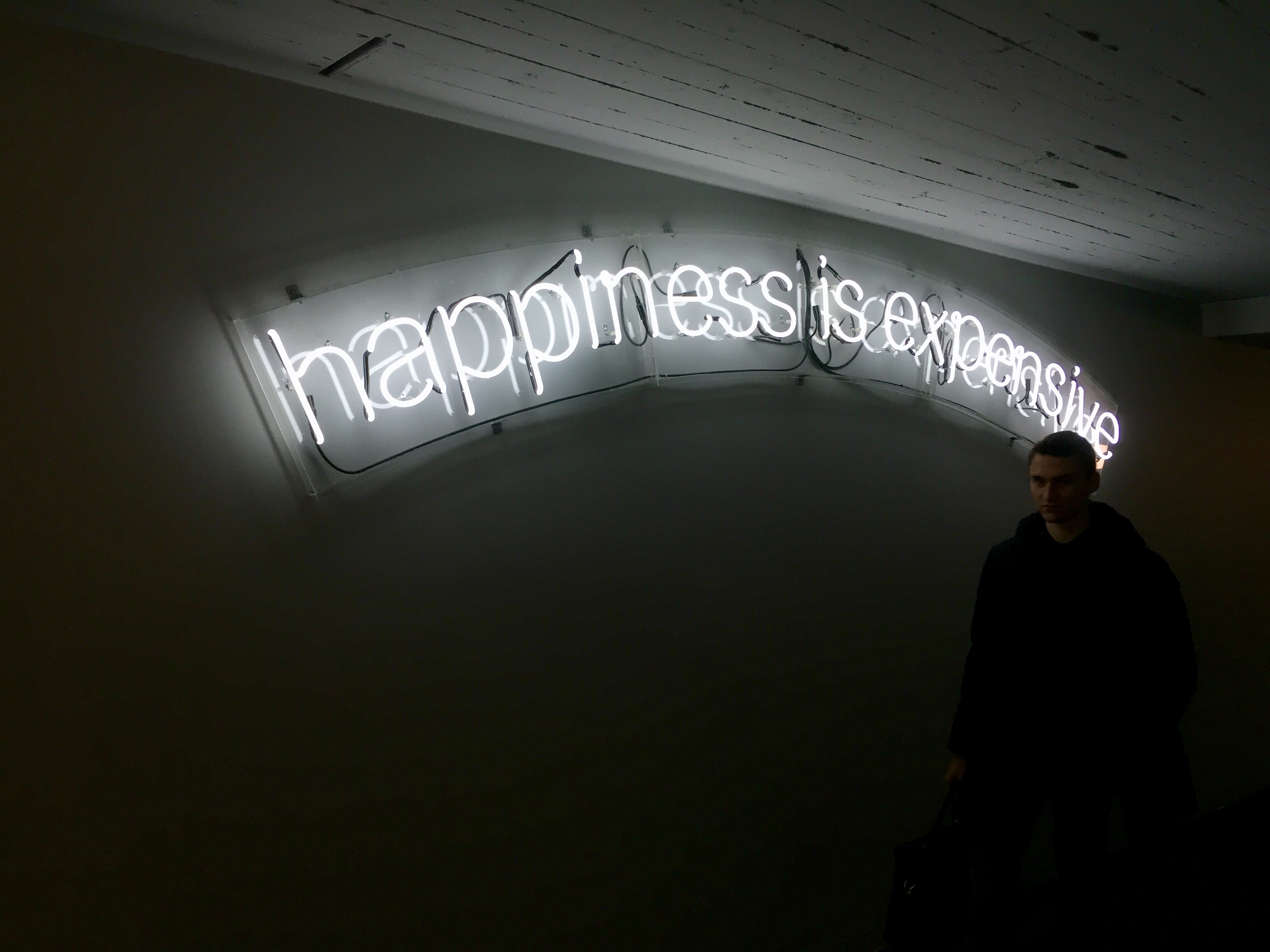 Purpose Driven Business – was heisst das?
Vom 29. - 30. November fand an der Universität St. Gallen die IGNITE Conference statt. Während zwei intensiven Tagen interagierten 150 Studenten mit neun nationalen und internationalen Speakern in Workshops, Keynotes und Diskussionen. Für einmal wurde die Bühne für "Corporate Rebels" geöffnet! Ich war für euch mit dabei und habe spannende Stimmen eingefangen.
Happiness is expensive: Ist das so?
(Kunstinstallation im HSG Hauptgebäude)

Wohlstandsverwahrloste Jugendliche, die mit dem Porsche von Papi den Rosenberg hoch donnern und sich nach strengen zwei Stunden Management Vorlesung bei Rüegg-Stürm eine Flasche Champagner zum Aperitif gönnen – mit HSG Klischees könnte man ein Buch so dick wie die Bibel füllen. Man vergisst dabei oft, dass die Uni St. Gallen das Zuhause extrem vieler junger Change Agents ist, die sich zum Ziel gesetzt haben, die Wirtschaftswelt gehörig umzukrempeln. Die studentische Initiative IGNITE ist ein gutes Beispiel dafür – und bei weitem nicht die einzige.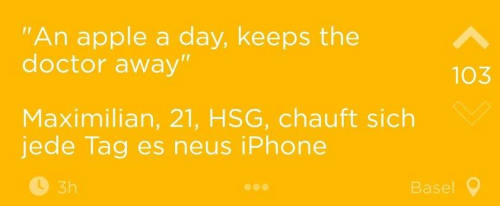 HSG Klischee auf Jodel
"Natürlich gibt es Schnösel an der HSG – In welcher Wirtschaftsfakultät findet man die denn nicht? Fakt ist aber: Allein in meinem Freundeskreis haben sich mehr als 10 Leute für 3-6- monatige High Impact Projekte in Entwicklungsländern entschieden, anstatt beispielsweise eine Abhandlung über Aktienkursentwicklungen zu verfassen. Viele Kommilitonen engagieren sich bei Organisationen wie Oikos, Student Impact, Trans4m und IGNITE für mehr Purpose in der Wirtschaft."
Moritz Merz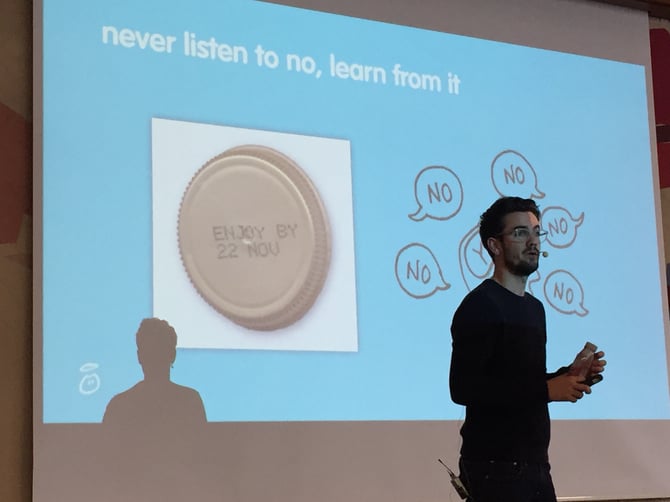 Tim Dorsett, Culture Ambassador at Innocent: "Never listen to no, learn from it"
IGNITE und die Teilnehmenden der Konferenz sind sich einig, dass die Privatwirtschaft ein treibender Motor sein kann, um die Gesellschaft positiv zu beeinflussen. Soziale Werte und integratives Handeln schliessen finanzielle Performance nicht aus – sie begünstigen sie langfristig sogar. IGNITE bringt Studenten und Wirtschaftsführer an den runden Tisch und unterstreicht dadurch die Wichtigkeit der zukunftsgerichteten generationen- und sektorübergreifenden Zusammenarbeit. Im Zentrum der Veranstaltung stand Leute zu inspirieren, sich vom Sinn leiten zu lassen.
Stellt euch vor: Laut Gallup Studie sind 76% der Arbeitenden in der Schweiz "disengaged at work", also fühlen sich nicht eingebunden. Unglaublich, nicht? Das Resultat: Frustration am Arbeitsplatz.Wer nicht happy bei der Arbeit ist bringt dieses Gefühl nach Hause und trägt es in die Familie und Gesellschaft. Schluss damit!
---
11 Relevente Zitate von der IGNITE Konferenz
Ich habe im Verlauf der Konferenz Speakers und Studenten gefragt, welche Messages sie von der Konferenz mitnehmen, was ihre Eindrücke waren (söri böt wi switsch tuu inglisch):
1. Maggie Lu, Leadership Coach & Co-Founder of

Teal Village
"Heartwarming. Inspirational. Hopeful. I had the possibility to engage with an enlightened generation of young leaders. Sinek is more than wrong about Millennials, when he speaks of them as narcissistic job-hoppers. For them there are basically two options: To Rebel or found their own companies. In the hierarchic structures of modern corporations they cannot prosper and grow."

2. Camille

, BWL Student
"We have to be open-minded and open to change. This way the unique potential in all of us can be ignited."
3. Benedikt Germanier,

CEO at

Zai Ski
"Follow your path and listen to your inner voice. The voice will have different directions for you depending on the stage of your life. Do what feels right in the moment and do not be afraid."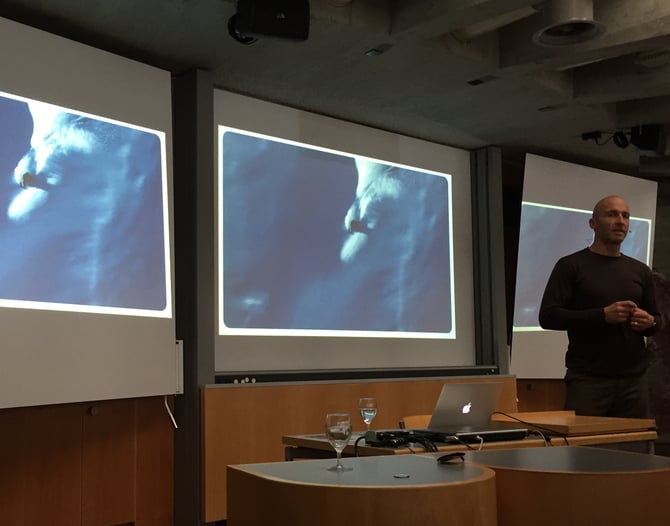 Benedikt Germanier, CEO Zai Ski
"It is not always easy to trust your employees but afterall it is the only way forward."
"Change needs leaders. The organisators of IGNITE conference are such leaders. They are like a match that you throw on a pile of wood. The fire within all students started burning"
"Leaders are responsible to build an environment for people to grow. Good relationships are the key to a society we want to live in. It is the key for everything and can solve all our problems."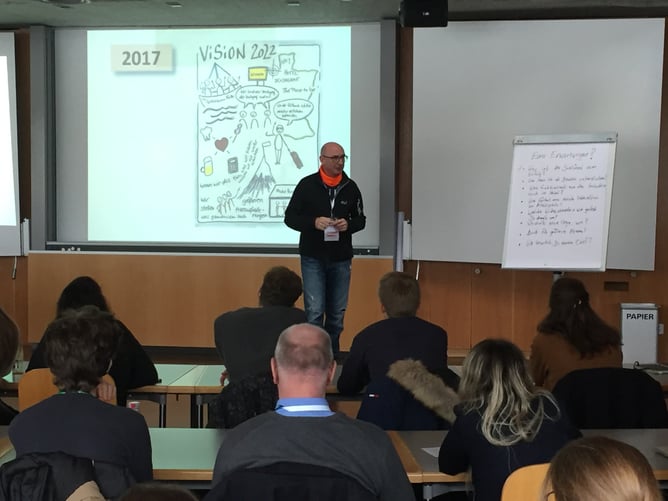 Sebastian Schmidt: Der Chef, der sich selber abschaffen will
7. Remo Rusca, Co-Founder and Board Member at

VillageOffice
and Entrepreneur with

SMART Identity
"You have to ask yourself: What is my source of life and does it have the place in my current life it deserves? If not, you need the courage to change."
8.

James Jennings, Managing Director at

At One
"Secrecy is where conspiracy is hatched. Transparency is crucial for purpose-driven business."
9. Caroline

, IA student
"Soon I will be finished with my studies. When looking for my first job, I will lay the emphasize on how the organisation works. The organizational structure is more important for me than the sector".
10. Carla

, Law student
"I see the clichées at HSG as something positive. On a daily basis I get engaged in projects with impact to prove others and myself they are wrong."
11. Pascal Dulex, Culture Coach at

Freitag
"We are in the comfortable position that our founders (the Freitag brothers) do not have money as their primary focus. This gives us great freedom to be creative."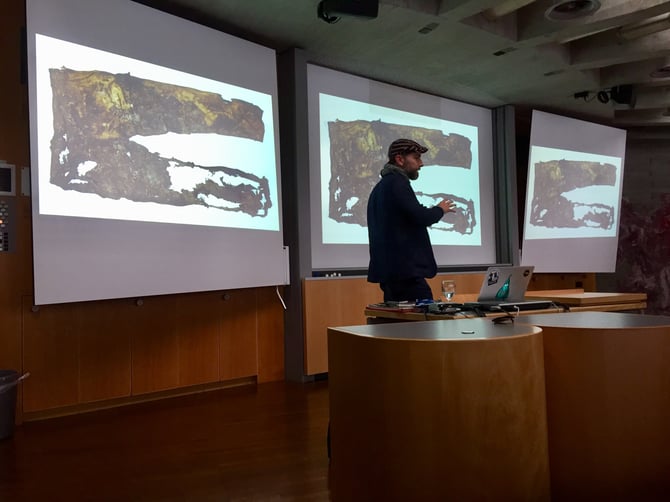 Pascal Dulex über die kompostierbaren Hosen, Culture Coach bei Freitag
Meine Take Aways
Die Zitate wiederspiegeln gut, was ich selbst von der Konferenz mitgenommen habe: Die zwei Tage haben mich hoffnungsvoll gestimmt. Ich spürte, dass die nächste Generation Bock hat, die Dinge anders zu machen und den Mensch wieder in den Mittelpunkt zu stellen. Als Führungskräfte von morgen müssen wir allen Individuen um uns herum ein Umfeld bieten, welches persönliches Wachstum erlaubt und das einzigartige Potential in jedem einzelnen zutage fördert. Mensch und Organisation sind eng miteinander verknüpft. Schafft man also Strukturen, die den Menschen glücklicher machen stärkt man damit die gesamte Organisation. Die Konferenz erlaubte es tiefe Einblicke in inspirierende Unternehmen zu bekommen und deren Führer und Botschafter als Menschen kennenzulernen.
Ich bedanke mich ganz herzlich beim ganzen IGNITE Team. Es war grossartig!
---